New!
Laserable Foam Board - SmartX
Being suitable for digital printing and laser cutting, SMART-X® is a lightweight, all-plastic foam board. It is especially suitable for sophisticated applications through combination of printing and laser cutting applications, offering new possibilities in the field of visual communication. Temperature resistance from -10°C up to +70°C. SMART-X® is made from 100% polystyrene (no adhesive between core and cover layers).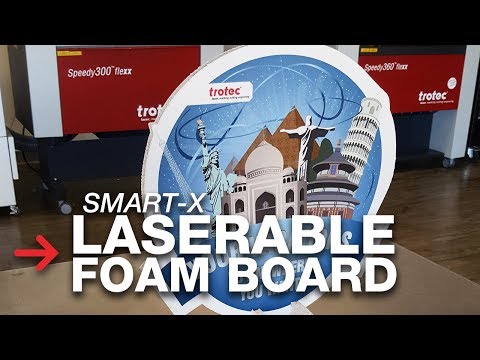 Applications:
Life-Sized Fashion Displays
Large Format & Long and Narrow SIgns
Self-supporting Free Standing Structures
Decorations
Lettering
Screen Printing
Shop Design and FItting
Sheet size in mm:
Full Sheet
47.8" x 23.8"
Half Sheet
23.8" x 23.8"
Quarter Sheet
23.8" x 11.8"
Material Features:
Material: Lightweight foam board, 1 ply
Finish: matt
Thickness: 5mm, 10mm
Cutting Method: laser, saw
Filter Laserable Foam Board - SmartX selection: