LaserFlex
LaserFlex is a transfer film for customizing textiles, leather and various fabrics. The designs can be produced extremely delicately using the laser. Once the laser engraves or cuts the artwork, a transfer press then applies the design to the textile.
LaserFlex is characterized by good opacity and high elasticity. A great way to customize t-shirts and fabric bags and is recommended for cotton, polyester and blended fabrics.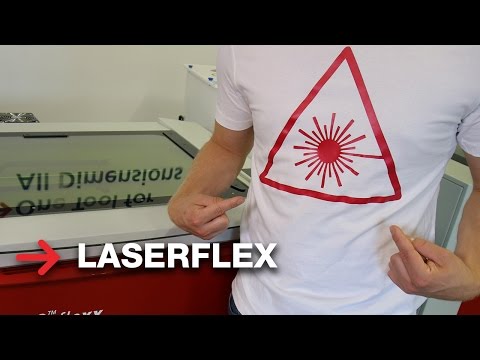 Applications:
Customisation of T-shirts
Customisation of fabric bags
Cotton, polyester, blended fabrics
Less suitable for nylon and coated textiles
Flex on flex is possible
Sheet size in mm:
Full Sheet
16.5'' x 11.5'' (A3)
Material Features:
Material: Polyurethane on transfer paper
Engraving depth: 0.004"
Cutting method: Laser, shear, scissors
Recommended transfer temperature: 175 °C
Recommended transfer duration: 60 seconds
Filter LaserFlex selection:
Tips:
LaserFlex has been specially designed to not pnly be cut but also to be weeded by laser. This means that it is
no longer necessary to mechanically remove excess material between graphics and letters or along edges.
LaserFlex film can be washed at up to 60 °C. Any residues can be removed by washing.
Recommended transfer conditions:
Temperature: 165 °C
Duration: 17 seconds