TroLase Textures
TroLase Textures are two-layer acrylic based materials, it is best used for applications in tough environments, where extra scratch resistance and durability are required. The textured, matte surface is non-reflective, strong and easy to clean.
TroLase Textures are UV- and weather-resistant, suitable for indoor and outdoor use.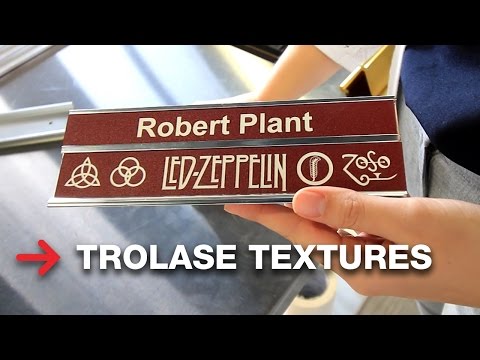 Applications:
Exterior & Interior Signs
Badges
Safety Signs
Control Panels
Industrial Applications
Sheet size in mm:
Full Sheet
24" x 48"
Half Sheet
24" x 24"
Quarter Sheet
12" x 24"
Material Features:
Material: Co-extruded impact acrylic
Engraving depth: 0.005", 0.007" Red and Yellow
Cutting method: laser, saw, shear
Filter TroLase Textures selection: